REPLAY LIVESTREAM ON DEMAND | Educational Forum on Virtual Health Assistants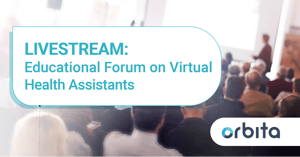 Learn about the rapidly changing world of voice-powered virtual assistants with sessions from physicians and nurses, infectious disease and public health specialists, healthcare business experts and technology professionals from Mayo Clinic, Amwell, Voice First Health, Kyruus, Intelligent Health Association, and more.
The following is a sneak peek of our on-demand session lineup - register on the right of this page to access the individual sessions.
As promised, these on-demand session recordings include public health perspectives from the front lines (specifically COVID-19), including an infectious disease epidemiologist specializing in respiratory viruses at Johns Hopkins and a global public health expert working with USAID, the Bill & Melinda Gates Foundation, and the World Health Organization.