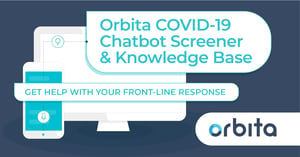 Provide a virtual layer of support and screening for lower-acuity patients and employees with Orbita's COVID-19 Chatbot Screener and Knowledge Base (available at no cost through September 2020).

Want to integrate this chatbot into your website?
It's simple - you'll make a request (right side of this page), agree to the chatbot terms and conditions, and we'll send you an email with instructions on how to deploy the chatbot to your website.

Once deployed, it will work across web and mobile browsers to support:
Screening – Help healthy but worried, symptomatic, and at-risk individuals check their symptoms and understand their options
Patient education – Provide patients with credible, clinically-vetted information sourced from the Centers of Disease Control and Prevention (CDC)

*The Orbita chatbot is available in English language only, and is optimized for the U.S. healthcare market.


---
You must read and accept the terms of service before
continuing (click into text below to scroll through).