Orbita has been working to help our customers, other healthcare provider organizations, and large employers across the world triage and navigate employees virtually to support the healthy but worried, at-risk, and symptomatic patient populations.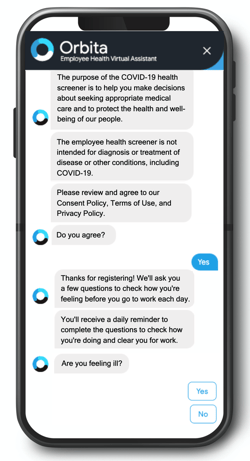 The Orbita Employee Health Manager helps employers screen, check on and manage employee populations, direct them to educational resources and provide work clearance.
Additional benefits of Orbita Employee Health Manager:
Works seamlessly across web browsers, mobile chatbots, smart speakers (e.g. Amazon Echo, Google Home, etc.)

Available via phone or SMS messaging: critical for reaching at-risk patient populations who may not use a smartphone or website
Can be integrated with existing visit scheduling and telemedicine services




---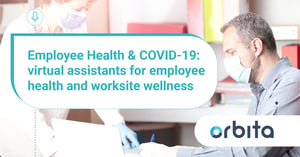 [WEBINAR] Employee Health & COVID-19: virtual assistants for employee health and worksite wellness
Join Nimisha Kalia, MD, MPH, MBA, North American Medical Lead at Procter & Gamble and Director, Division of Occupational Medicine at Johns Hopkins and Chelsea Biel, BSN, RN, Director of Clinical Informatics at Orbita for a live discussion about digital solutions for employee health initiatives on Wednesday, May 27 at 1:30pm ET.