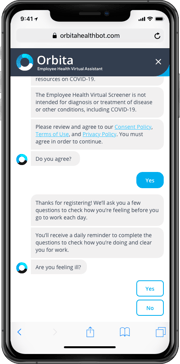 Promote safer workplaces with health screening, assessment, and educational tools for employees. Orbita's Employee Health Manager automates outreach with robust but nimble digital assessment tools to screen and monitor symptoms of COVID-19 or other indications like anxiety or depression.
Additional benefits of Orbita Employee Health Manager:
Educational content from trusted sources like Centers for Disease Control & Prevention (CDC) and Mayo Clinic

Works seamlessly across web browsers, mobile chatbots, smart speakers (e.g. Amazon Echo, Google Home, etc.)

Available via phone or SMS messaging: critical for reaching at-risk patient populations who may not use a smartphone or website
Can be integrated with existing visit scheduling and telemedicine services




---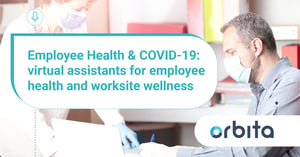 [WEBINAR] Employee Health & COVID-19: virtual assistants for employee health and worksite wellness
Join Nimisha Kalia, MD, MPH, MBA, North American Medical Lead at Procter & Gamble and Director, Division of Occupational Medicine at Johns Hopkins and Chelsea Biel, BSN, RN, Director of Clinical Informatics at Orbita for a discussion about digital solutions for employee health initiatives.